Thank you very much for your interest in our study. We are no longer recruiting caregivers and their infants (0-6 months) or toddlers (18-36 months). Follow Dr. de Barbaro's Google Scholar for our latest publications from this study.
---
What your participation involves:
---
If you want to join the study, we will ask you to participate in an intro visit and a home session.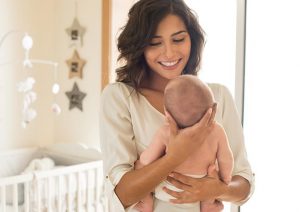 INTRO VISIT:
One visit at your home, the CommUnity Care Clinic, or our lab on UT Austin's downtown campus.
Wear devices that pick up on your and your baby's sounds and movements.
Participate in fun activities that help us learn about your baby!
HOME SESSION:
We will leave you with our devices for one week.
You and your baby will wear these devices three separate times.
You will answer short surveys on your phone.
---
What the intro visit looks like:
---
First, two members of our lab will come to your home, the CUC clinic, or we'll meet you at our lab on campus. We're available for visits most weekdays and weekends, so you let us know what place and time works best for you.
Then, we will explain the study to you, answer questions, and give you a consent form to sign if you choose to participate.

If we're at your house, please don't clean up for us!

We'll also give you some questionnaires to fill out while a research assistant plays with your child.
Then, we'll help you and your child put on wearable devices. You and your child will wear a white activity monitor, and your child will also wear an audio recorder in a special shirt!
Once the devices are on and comfortable, we'll do some structured play activities.
If you happen to be at the session with your partner, we may ask to film you both having two short conversations.
At the end of the introductory visit, we'll help you begin your home recording session.
Before we leave, we'll give you a gift card to thank you for your time! You will get another gift card after your home recording session, up to $100 total.