Phone (text only): (470) 344-6490
Email: dailyactivitylab@gmail.com
The Daily Activity Lab is part of the Institute for Mental Health Research. The IMHR is located on the fourth floor of Patton Hall (RLP). Our street address is 305 E 23rd Street, Suite 4.102, Austin, TX 78712.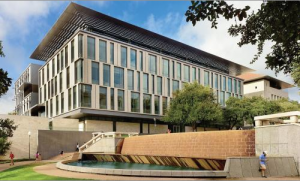 Visiting the Lab for a Session
Please park in the reserved IMHR parking spots along San Jacinto Blvd in front of the UT Alumni Center and across the street from the football stadium. You will have a designated parking spot at 2150 San Jacinto St., Austin, TX 78712. This is a good address to put in your GPS. You may park in any of the parking spots between the two signs designating Institute for Mental Health Research Official Visitor Parking. A research assistant will be waiting for you here, at our parking spots, starting 10 minutes before your appointment. If you arrive any earlier, send us a text and we'll run out to meet you. We will provide you with a dashboard permit upon your arrival and then walk you to our lab in RLP. It will be a stroller-friendly 5 minute walk.