Dr. Jessica Church-Lang
Principal Investigator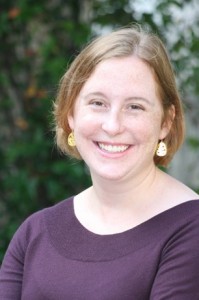 Dr. Church-Lang received her Ph.D. in Neuroscience from Washington University in St. Louis in 2008. She has a strong interest in how cognitive processes develop over age, and in how research on atypical development illuminates the vulnerable aspects of typical cognitive development. Research in the lab currently focuses on the development of cognitive skills such as task switching and reading in late childhood and early adolescence. Dr. Church-Lang is heading the neuroimaging arm of the Meadows and Vaughn Gross Center project on 4th grade reading intervention at UT Austin. We are interested in whether neuroimaging can reveal differences between struggling readers who respond to intervention and those who don't, as well as in exploring differences between struggling and non-struggling readers during sentence comprehension. We're particularly interested in how regions of the brain involved in attention relate to reading disorders. As part of the reading-intervention project, as well as in additional research efforts, we are exploring the development of short-duration, rapidly-adjusting adaptive control brain networks, how they might be different in typical and atypical development, and how they interact over age with the rest of the brain. To address these questions, we use behavioral methods such as cognitive tests (where we measure reaction times, accuracy on tasks, or eye movements), neuropsychological assessments, neuroimaging (fMRI, resting-state fcMRI), and studies of patient populations (e.g. children with Tourette syndrome or dyslexia).
---
Annie Zheng
Lab Manager
Annie Zheng graduated from Colgate University with a B.A. in Cognitive Neuroscience. During her undergraduate career, she studied second language phonological acquisition in native English speakers using acoustic analysis methods. Currently, Annie is investigating the neural substrates of reading comprehension of struggling and fluent readers as well as the development of cognitive function in adults and children using a selective attention and task switching paradigm.
---
Laura Engelhardt
Graduate Student
Laura graduated from Indiana University in 2011 with a BA in Psychology and Spanish. She worked as a lab manager for Dr. Kimberly Noble at Columbia University, where she helped to investigate the effects of low socioeconomic status on neurocognitive development across childhood. Laura will pursue this line of work at UT under the mentorship of Dr. Jessica Church-Lang and Dr. Elliot Tucker-Drob. She plans to research structural and functional brain development from a behavioral genetics perspective. She is particularly interested in the developmental trajectories of reading and executive function.
---
Matthew Larsen
Undergraduate Research Assistant
Matt is a junior at UT Austin pursuing a B.S. in biology with a focus in neurobiology. He is also a member of Synapse, a UT student organization focused on neuroscience research. He previously worked in Dr. Anslyn's lab, helping to develop sensing arrays to detect differences between varietals of wine. Matt joined the Church Lab to gain experience doing cognitive neuroscience research, which is where his primary research interests lie. He is also interested in the biology behind neurodegenerative and mental disorders such as Alzheimer's disease and bipolar disorder. After finishing his undergraduate studies, Matt hopes to attend graduate school and pursue a Ph.D. in neurobiology.