Dr. Catharine Echols
Principle Investigator
Associate Professor
echols@austin.utexas.edu
(512) 471-4879
SEA 5.220
Dr. Echols received her Ph.D. from the University of Illinois, Urbana-Champaign, in developmental psychology. Before joining the faculty at The University of Texas, she conducted postdoctoral research at Stanford University. Her research explores the acquisition of language, and its interface with cognitive and social development. A major current focus is how children use social information—including gaze and other non-verbal cues, past accuracy, similarity, and knowledge of an individual's motives—to evaluate the words and statements of others. A second focus, overlapping with the first, is the similarities and differences—across culture, language and socio-economic status—in the availability and use of linguistic and social information in language learning. An additional research focus is how general problem solving skills promote the learning of word meaning and sentence structure.

Mayra Chantal Ramirez
Graduate Student
mayrachantal@utexas.edu
SEA 1.318C
Chantal received her BA at Texas A&M before joining the graduate program at the University of Texas at Austin. She is interested in researching bilingual language processing and development, learning strategies in early bilinguals and second language learners, and dual language education.


Shaden Powell
Graduate Student
shaden.powell@utexas.edu
SEA 1.318B


Shaden has been working as a Mental Health Therapist since graduating with her Master's Degree in Counseling and Human Development from George Mason University in 2015. Her clinical experience influenced her research interests in understanding the relationship and impact of caregiver-child interactions on the development of children, specifically as it relates to language development. She believes in the significance of early childhood experiences on mental health and the critical need to create interventions promoting healthy development. She is excited to continue her research with Dr. Echols in the Language Development Lab and looks forward to learning, growing and positively contributing to the field of Developmental Psychology.
Shirlyn Sia
Lab Manager
shirlyn.sia@austin.utexas.edu
SEA 1.226
Shirlyn received her BA at the University of Texas at Austin in Psychology. Within the developmental field, she is interested in exploring the effects of bilingualism on children's language and social development.
---
Current Research Assistants
We are so thankful to work with so many undergraduate students! If you are interested in joining our lab, please go here.
Abby Winnier – Amanda Hua – Ana Sofia – Anjali Nair – Anna Sung – Annika Krishnan – Ayanna Walsh – Briana Benavides – Candace Jessup – Christopher Truong – Courtney Huynh – Fiona Lin –  Jessica Crain – Kelsey Tom – Margaret Murphy – Rebecca Boswell – Rudy Garza – Shaunna Inkster – Tanya Owens – Vanessa Aguirre – Varsha Puliyadi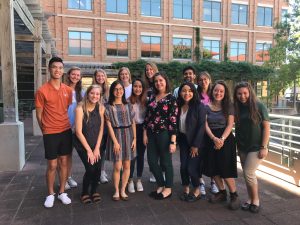 Former Doctoral Students:
Dr. Jane Childers – Professor at Trinity University
Dr. Nate Marti – Statistical Consultant at the University of Texas
Dr. Marlena Creusere – Senior Research & Policy Analyst at the University of Texas System Administration
Dr. Debora de Hollanda Souza – Associate Professor at Federal University of São Carlos (Brazil)
Dr. Melissa Koenig – Associate Professor at the University of Minnesota
Dr. R Jason Brunt – Assistant Professor at Biola University
Dr. Sheila Krogh-Jespersen – Assistant Director of Developmental Mechanisms at Northwestern University
Dr. Micah B. Goldwater – Senior Lecturer at the University of Sydney
Dr. André L. Souza – Election Integrity Researcher at Facebook
Dr. Bolivar Reyes-Jaquez – President's Postdoctoral Fellow at the University of Minnesota
Dr. Dolly Rojo – Assistant Professor at Mount Saint Mary's University
Former Undergraduate Honors Students:
Isaac Peterson – Assistant Professor at the University of Iowa
Jissel Anaya – Graduate Student at the University of Texas
Lindsay Taraban – Graduate Student at the University of Pittsburgh
Subhashini Madhavan – Laboratory Manager at Temple University
Mary Cantu Garcia – International Coordinator at Northeastern University
Jiazhou Chen – Research Specialist at The University of Pittsburgh Medical Center
Shirlyn Sia – Laboratory Manager at the University of Texas
Ana Martinez – Graduate Student at Tufts University
Madelyn Schmidt – Teach for America