Jess's Birthday, January 2017
We celebrated Jess's birthday with an escape room – we made it out with 15 minutes to spare!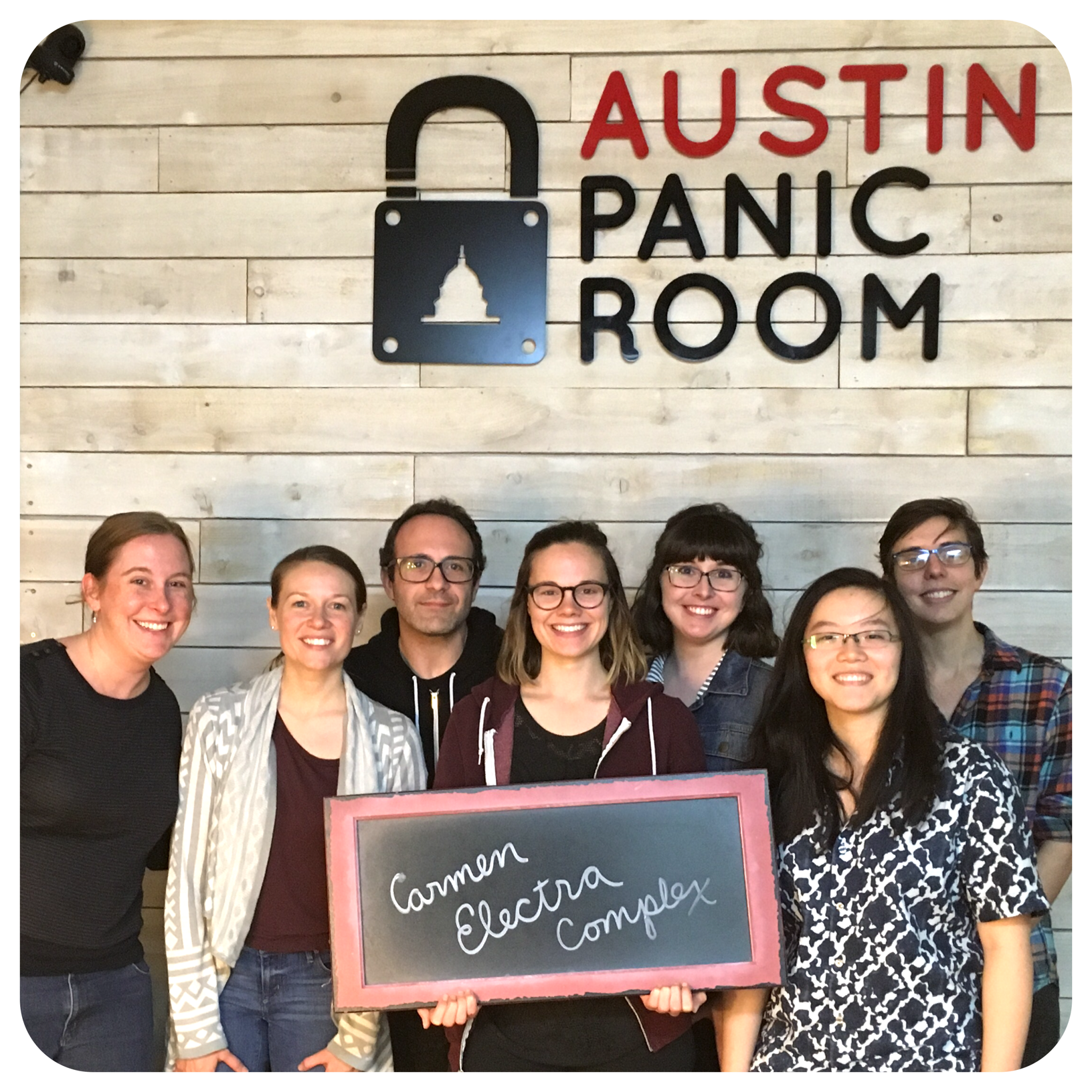 Holiday Party, December 2017
We celebrated the end of the semester with bowling and air hockey at the Union Underground!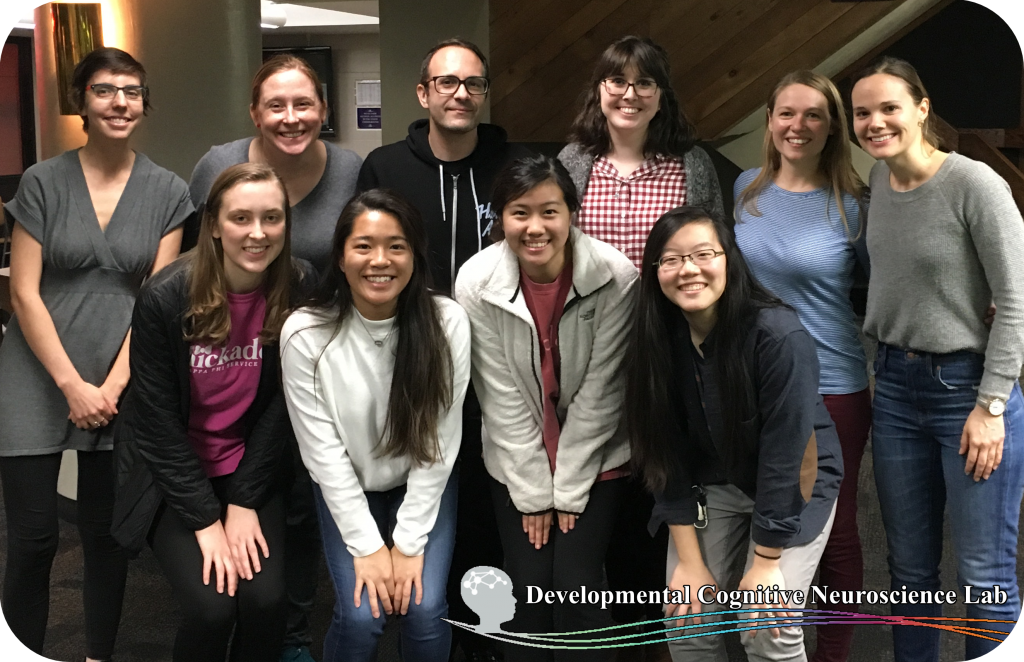 Second Year Talks, December 2017
Second year graduate students, Damion and Tehila, gave presentations to the Cognitive Neuroscience area on their current projects. Damion presented his work investigating how "Resting-state control networks support overlapping executive-function task activity in middle childhood." Tehila presented on how "Brain activity relates to skill change in struggling readers" from the LDRC reading intervention study.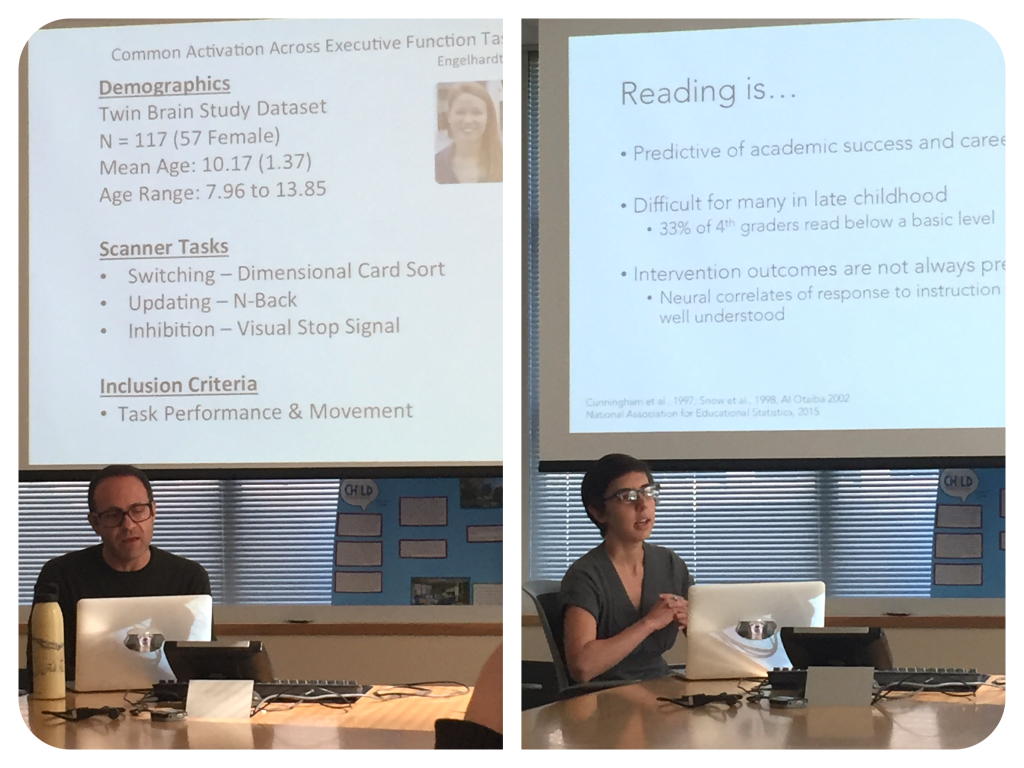 Resting State fMRI Analyses, November 2017
Undergraduate RAs, Madison and Nikita, are working with Damion to prepare resting state fMRI images for analysis. We are investigating similarities and differences in resting brain activity of parents and their children.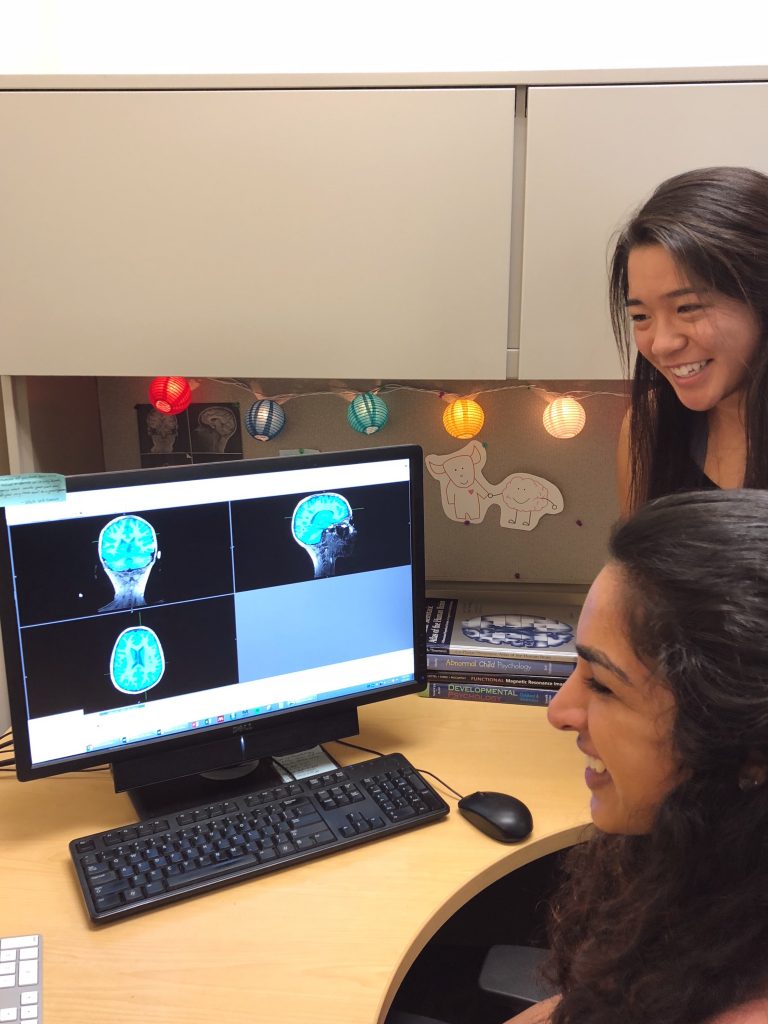 Society for Neuroscience, November 2017
Tehila presented results of the reading intervention study at the Society for Neuroscience (SfN) Conference in Washington D.C.!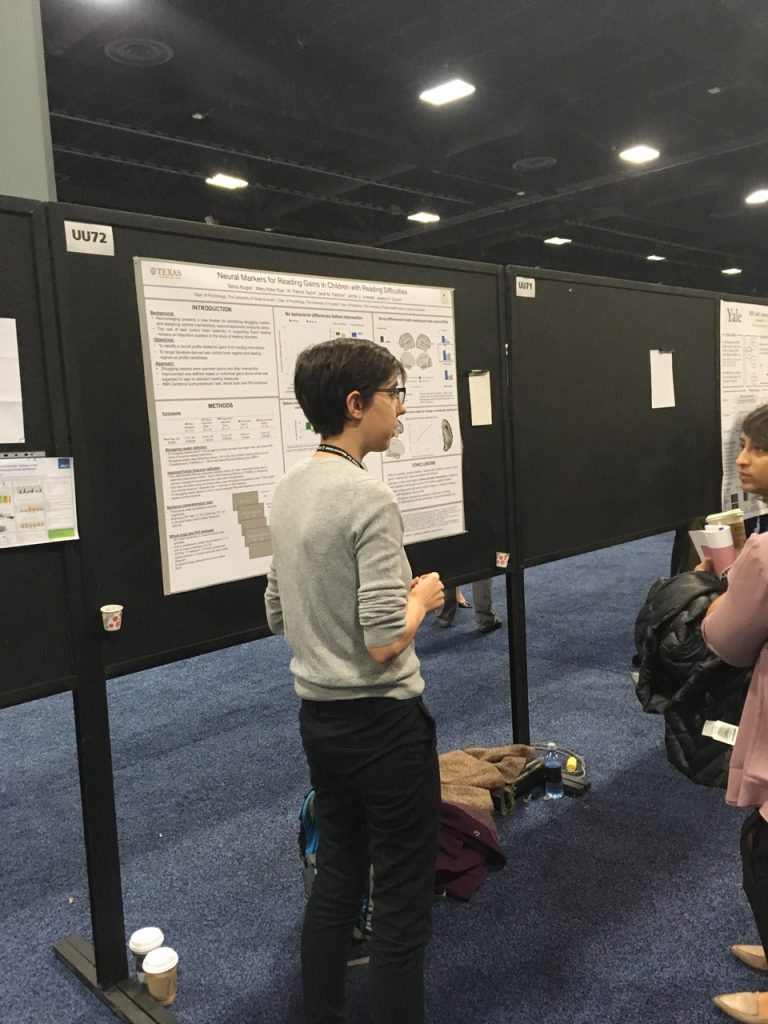 Texas Center for Learning Disabilities, October 2017
Our collaborative reading intervention project with the Texas Center for Learning Disabilities received an $8.4 million grant from the National Institute of Child Health and Human Development to continue work for another five years! Take a look at this press release from the University of Houston.
Flux Conference, September 2017
Our graduate students presented posters at the Flux Society Conference in Portland, Oregon!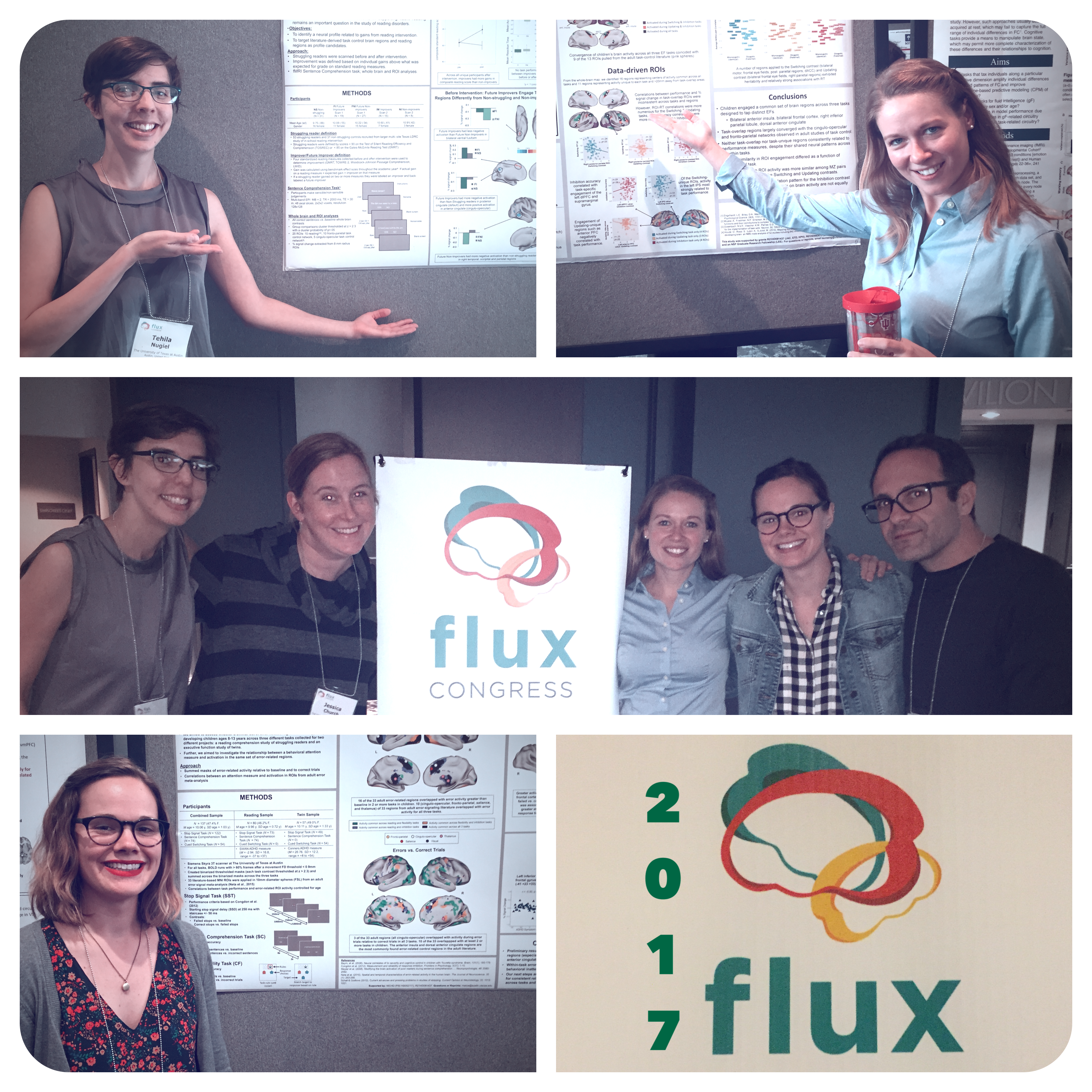 Frontiers in Psychology, August 2017
We have a new paper in press at Frontiers in Psychology!
Bauer JR*, Martinez JE*, Roe MA, Church JA. Consistent performance differences between children and adults despite manipulation of cue-target variables. 2017 in press, Frontiers in Psychology: Developmental.           *Co-first authors
Lab Party at The Goodnight, August 2017
Annie, our faithful lab manager, is going off to graduate school at Washington University in St. Louis. We said goodbye with bowling and a pub quiz!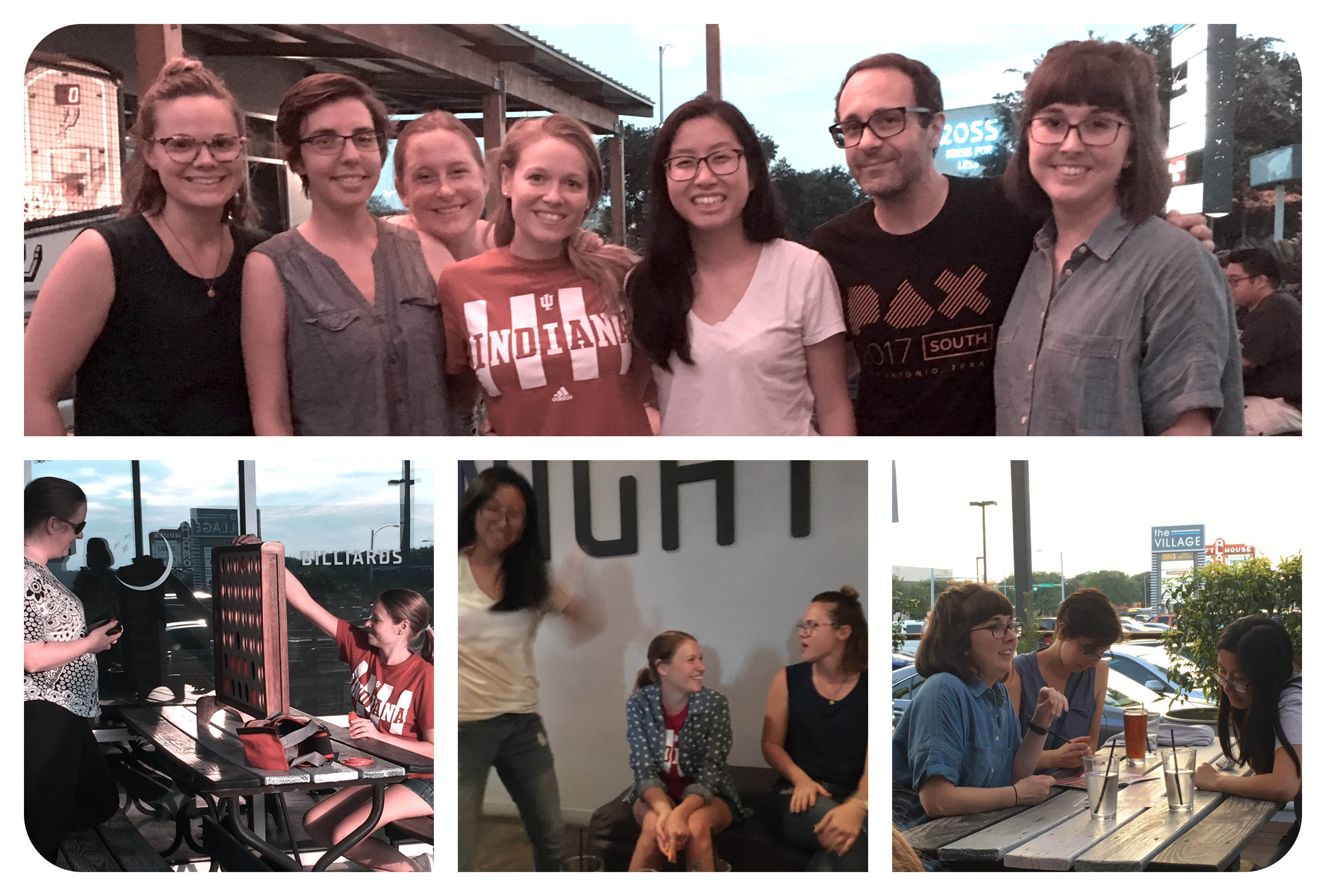 The New York Times, July 2017
Dr. Church-Lang was quoted discussing discipline and positive reinforcement in the article "If Tech Execs Act Like Spoiled Brats, Should We Spank Them?"
SRCD Conference, April 2017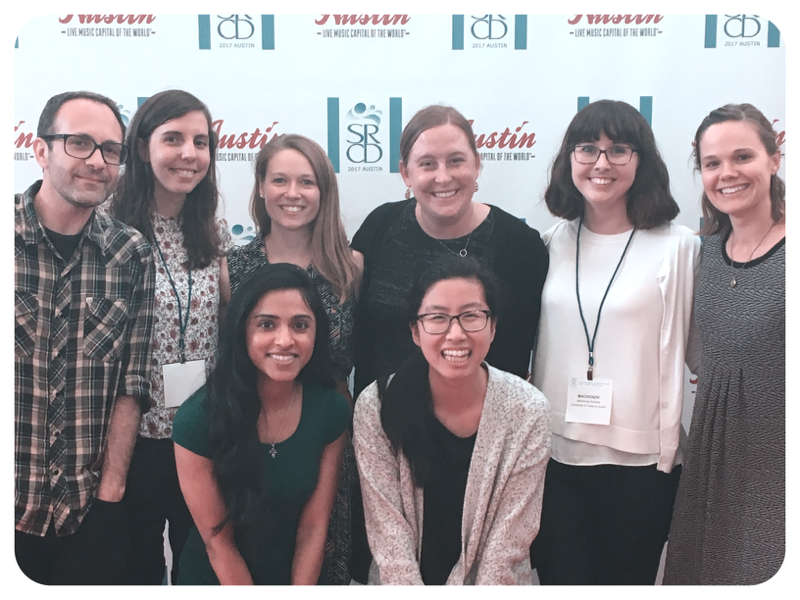 Girl Day/STEM Festival, February 2017
Getting down and dirty with sheep brains!
Holiday Party, December 2016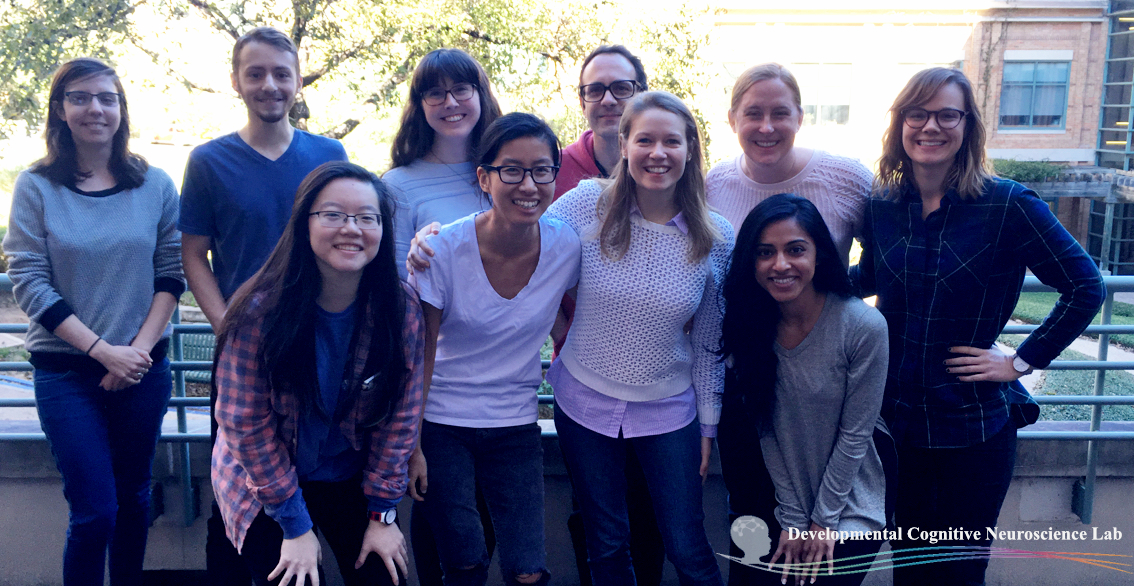 Middle School Outreach, December 2016
Pflugerville Middle School students came to our lab for an afternoon of science fun!
April 2016
A month of exciting events! Alyssa and Rawand, both graduating seniors, presented posters at UT's undergraduate research symposiums! Lauren got into medical school! Congratulations all around.
St. Louis Public Radio, December 2015
We were featured in a St. Louis Public Radio piece on the middle school brain and education!
Holiday Party, December 2015
Longhorn Halloween, October 2015
Mary Abbe representing the Church Lab at the Cognitive Development Society Conference, October 2015
Birthday celebration for Alyssa, Anna and Laura! October, 2015
Lab Happy Hour, August 2015
Lab Trivia Night, Pinthouse Pizza, February 3, 2014
Lab Secret Santa, UT Austin, December 10, 2014
Explore UT, UT Austin, March 1, 2014
Making Valentines for Kids in Children's Hospitals, UT Austin, February 2014
Longhorn Halloween, UT Austin, October 27, 2013
Church Lab, UT Austin, August 22, 2013
UT Outreach Events, Austin, Summer 2013
Making of the Imaging Research Center Welcome Movie, UT Austin, 2013